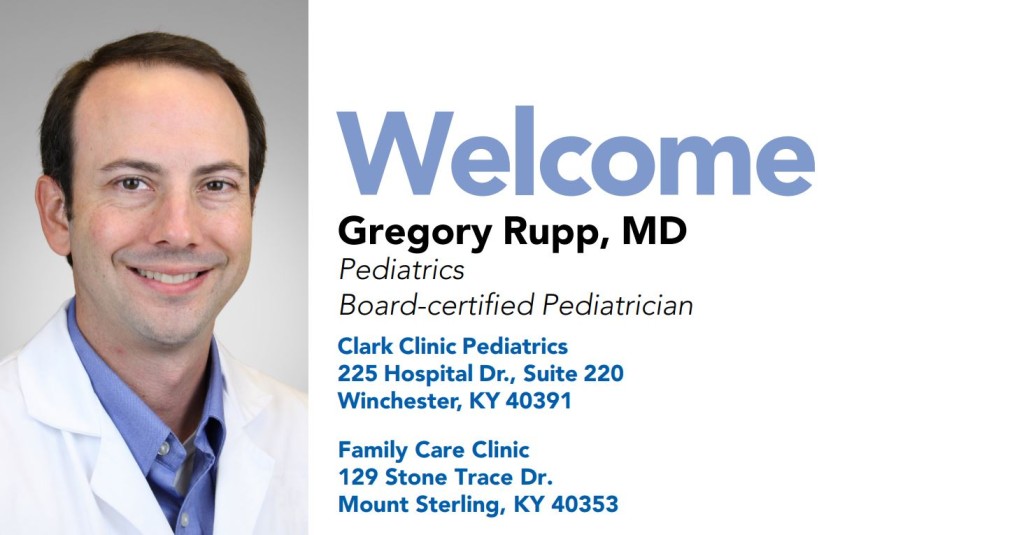 (Winchester, KY. – October 30, 2023) – Clark Regional Medical Center is pleased to welcome Gregory Rupp, MD, to the medical staff. Dr. Rupp will join Clark Clinic Pediatrics, expanding services throughout the community.
Dr. Rupp specializes in ADD/ADHD, immunizations, well child checks, vision and hearing screenings, newborn and preventative care. He also treats behavioral disorders and diagnoses and treats various illnesses.
"We are excited to welcome Dr. Gregory Rupp to our group of providers with the Clark Clinic," said Matt Smith, Chief Executive Officer at Clark Regional Medical Center. "Dr. Rupp will be a great addition to our amazing healthcare team serving the growing population of pediatrics in the Winchester and Mt. Sterling communities."
Dr. Rupp is board-certified in pediatrics. He earned his medical degree from the University of Kentucky School of Medicine in Lexington, KY and completed his Pediatrics Residency at Wright State University Integrated Pediatrics in Dayton, OH.
Dr. Rupp is now accepting patients at Clark Clinic Pediatrics located at 225 Hospital Dr., Suite 220, Winchester, KY 40391 and at Family Care Clinic located at 129 Stone Trace Dr., Mount Sterling, KY 40353. For more information or referrals, please call 859.737.6481.
Read All Posts